Reclamation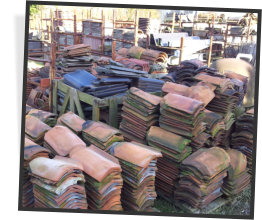 According to Sarah Beeny and Kirstie Allsopp, legends in the TV world of property and development, reclamation is back.
With such positive publicity from a whole host of TV shows, we have not been surprised to see our reclamation yard getting busier as salvage and reclamation becomes 'cool' again for the masses rather than just those in the trade.
Building and Landscaping
Roofing Materials
We carry stocks of clay pan tiles, ridge tiles, slates, chimney pots and associated roofing materials.
Quarry Tiles
We carry stocks of reclaimed Victorian quarry tiles in Terracotta and Black.
Bricks
We specialize in reclaimed York hand clamps in various sizes, we also have a varied selection of engineering and smooth face common bricks. All our bricks have been salvaged by our demolition company.
Stone Flooring
We carry a range of various sized York stone paving.
Cobbles and Sets
We have a selection of cobbles and sets available.
Oak Beams and Timber
We have a selection of reclaimed beams and timber as well as a selection of wooden flooring.
Architectural features
Gates and Railings
We carry a selection of reclaimed cast iron gates and cast iron railings.
Millstones
We have a selection of reclaimed antique millstones.
Stone Caps
We have a selection of reclaimed stone caps, stone pier caps and stone coping stones.
Contact Us
It is difficult to display the extent of our premises online, so if you can find the time, please come and visit us.
If there is something unusual that you are looking for, please do not hesitate to ask as we may be able to help.
Please visit our contact page for more information.
Enquire About Reclamation